Are you heading to Mongolian Gobi Desert? If yes, that's a great choice. So we would like to introduce to you the marvelous destination that you will definitely visit. This is Khongor sand dunes.
When you say Gobi, what comes to your mind?
1/3 of the Gobi desert, one of the biggest in Asia, is located in the southern part of Mongolia. If you look at Mongolian territory map, you can easily notice that almost half of Mongolia is desert and semi-desert (43% if we are to be more accurate).
When people imagine and talk about deserts, the first thing that comes into their mind is sandy dunes. But the Gobi desert is not like the Sahara desert, which is full of sandy dunes. In the Gobi desert however, only 5% of the territory are sandy dunes. The rest of Gobi desert are rocky areas with gravel stones and with scarce vegetation.
There are few, but the biggest sand dunes in Mongolian desert and semi-desert regions are: Elsen tsarakhai, Khongoryn els, Mongol Els, Bor Khyaryn els, Moltsog els and so on. All these sand dunes have their own unique features and are different from each other.
Among these sandy dunes, Khongoryn els dunes are the most interesting and most visited of them all. Khongor sand dunes are located in Umnugovi province, one of the top destinations in Mongolia.
Khongor sand dunes?
The Khongor sand dunes stretch 180 km from east to west, 3-12 km from north to south. The highest part of the sand dunes are Duut mankhan, which is about 200 meters high. The Sevrei and Noyon mountains lay nearby Khongor sand dunes, and its combination makes dramatic scenery.
It's not easy to define how long the Khongor Sand dune was formed. But according to geologists, it formed by wind erosion through millions of years. On the other hand, the granite stone which is considered one of the softest in nature. Isn't it interesting how everything alters with climate change. Surroundings are still changing at this moment. Anyway, let's go on.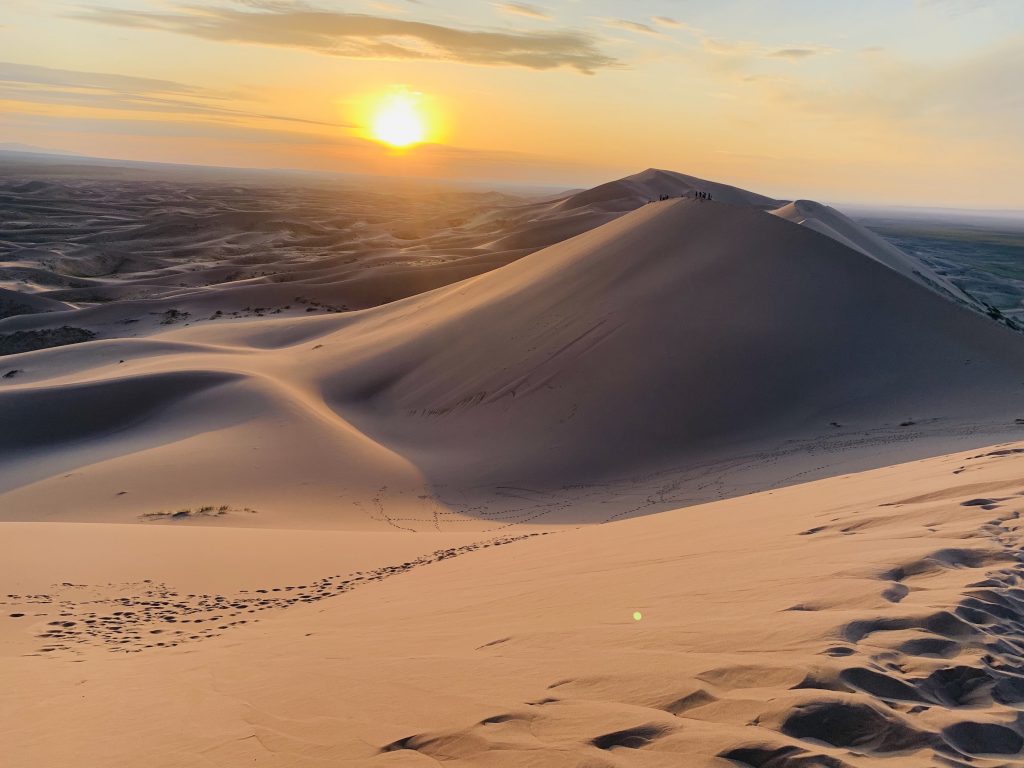 What can you do at Khongor sand dunes?
Everywhere you visit, there should be something that you can do. At least, you will add a story on your Instagram account. Everyone who visits the Khongor sand dunes wants only one thing, which is to get on top of it. By doing this, you may understand the meaning of this saying, "Life is not a destination, but a journey".
Climbing the top of the dunes is challenging but fascinating. However the time of reaching the final destination depends on from which way you go up, but normally it takes 40-90 minutes.
You can do sand boarding. It's interesting and funny. The highest part of the sand dunes are Duut mankhan. Duut mankhan is translated and "Singing sands" because of the wind, travelers can hear various humming sounds. You will easily hear the sound, when you slide down. 

It's a mistake, If you think that you will never encounter any living being, but a lizard. If you're a good hiker, you may see many wild animals here. Obviously, the bactrian camels are found easily. Even black tailed gazelle and antelopes.
The Sevrei mountain, which lays right front of the sand dunes, is the homeland of snow leopard. There are small springs behind the Khongor sand dunes and camel herders camp along the spring in summer. You can live with a camel herding family and ride a camel as much as you want. The Khongor sand dunes would be the best spot to ride a camel which is called a vehicle of the sandy desert.
When is the best time to climb on the dunes?
If you're traveling in mid summer and autumn the best time to climb to dunes would be at 5 pm (more or less) or before 10 am. Summer's sun in the Gobi desert may burn you and you might feel an uncomfortable journey up to the dunes.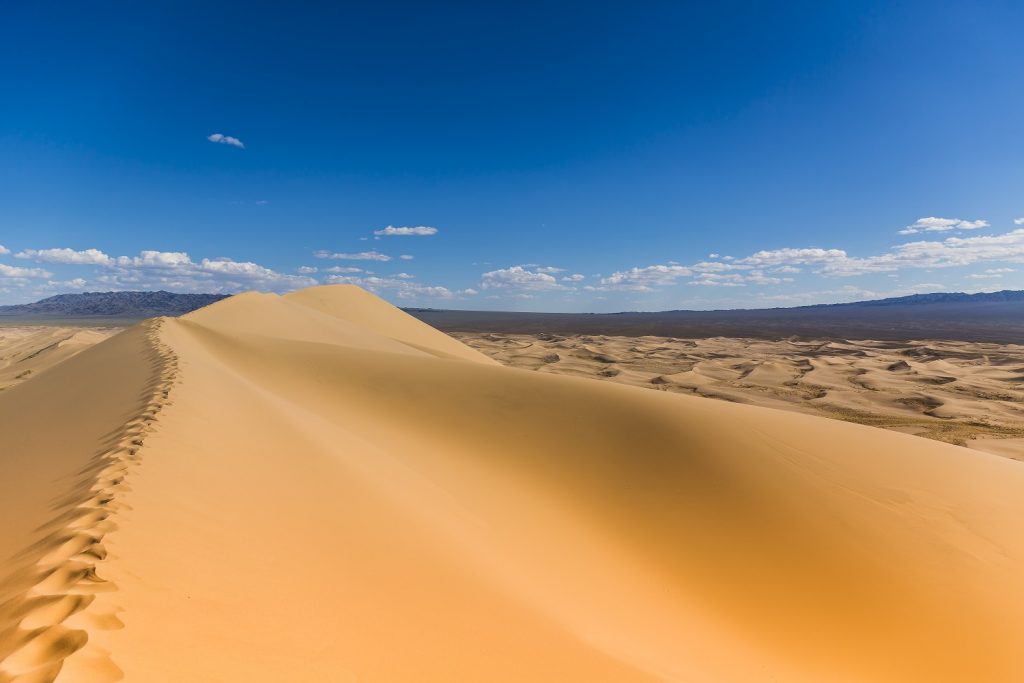 What should you carry with you?
Please take the following items with you.
Unless you're traveling in winter, early spring or late autumn, please get dressed lightly. However If you're planning to enjoy it up until night, just in case, better to take a warm jacket.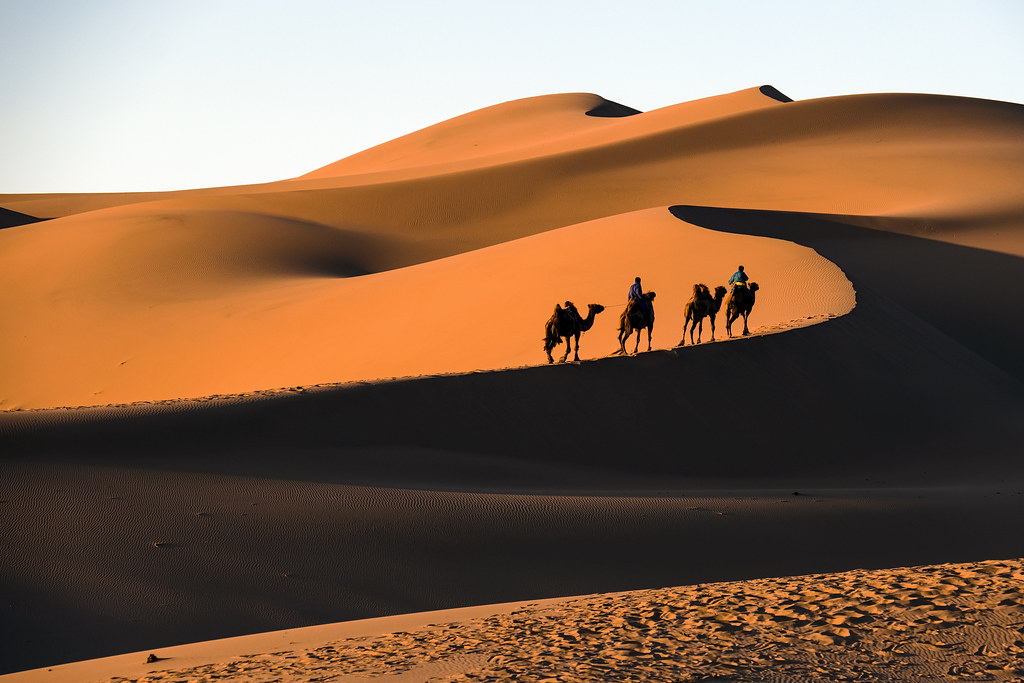 Climbing to top of the dunes demand intense work as a working out at the gym. So, especially, If you have asthma and any repsitorial failures (not limited to), please bring your medicines with you.
Just keep in mind:
Do not carry tiny items such as a single key, wallet, money or kits such as go pro etc as apart. Put them in closed and visual bags. If you drop them in the sand, it is hard to find them.
Your whole body will be covered with sand fully. You and your body will be part of the sand.
It will be way easier for you to climb up to the dunes barefoot. Only carry sandal or flip flop. Or you can just leave your boots in your vehicle.
After the long and breathtaking journey, please enjoy your delicious food with a camel herder, or in a decent local ger camp under the billions of stars. The more and more adventurous destination awaits you for the next day.